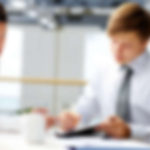 We work closely with you to understand your goals and aims, and then develop a new business plan
Are you concerned about the continually escalating cost of an IT staff? Are you worried your training dollars are invested for someone else's gain.
Our wide scope of expertise allows us to help miscellaneous types of businesses in any given niche, regardless of it being a software or a hardware failure issue…
Why not outsource your IT support and concentrate on your core business?
How does it work?
Tiered support options to fit your budget
Get multiple areas of expertise at your fingertips
Assess problems before they cripple your business
Cover multiple locations from anywhere
Reduce costly downtime